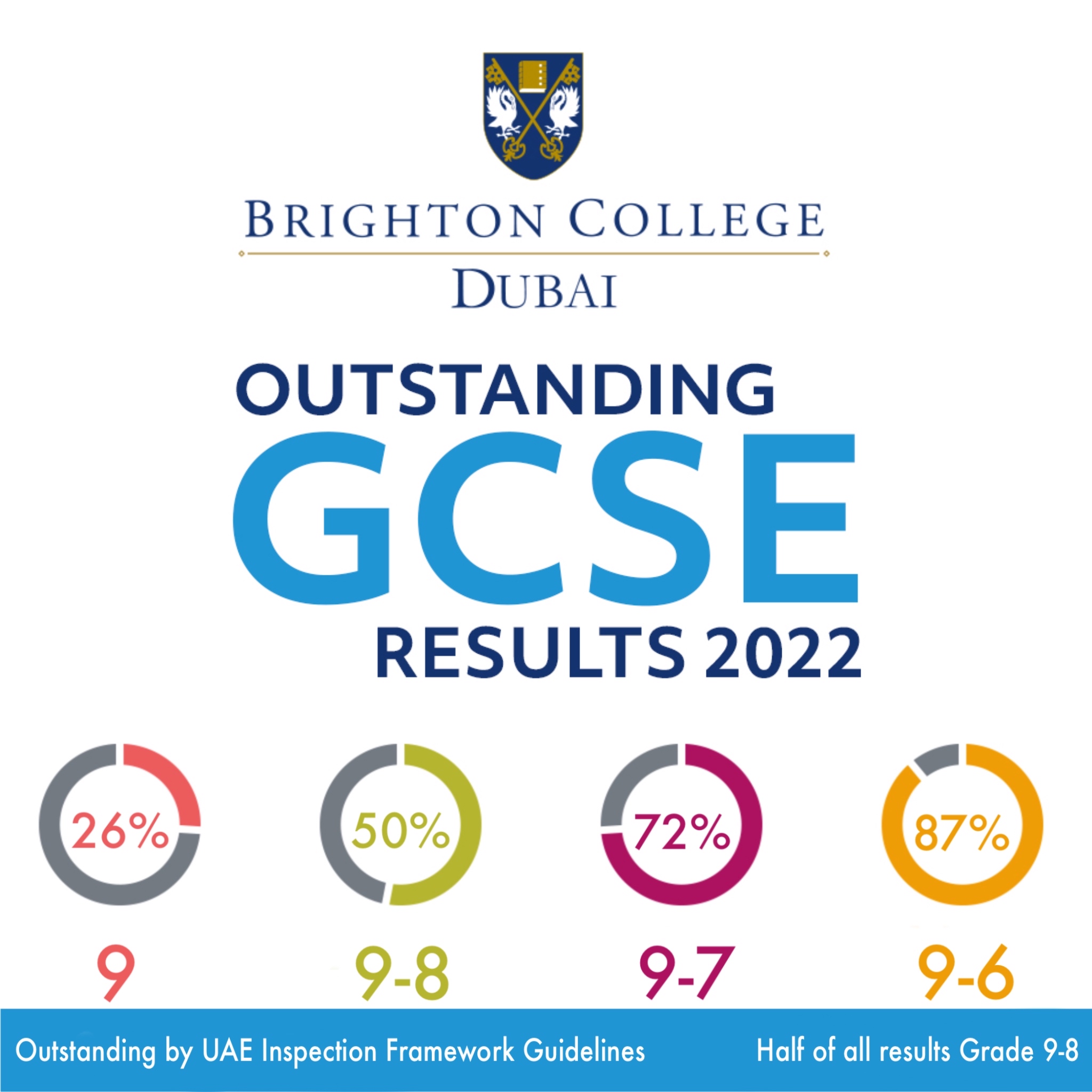 Outstanding academic results are a recurring feature of a Brighton College education. In the UK, Brighton College has consistently been ranked as one of the top schools in the country; over the last five years, its pupils have achieved results that place it in the top 1% of all schools in England.
2022 GCSE Results
Brighton College Dubai place in the top 3 schools in Dubai for GCSE results (72% A*-A / Grades 9-7, Which School Advisor Results Table)
For the second year in a row, GCSE pupils at Brighton College Dubai have received 'outstanding' results. Their achievements are testament to the exceptional teaching support that is one of the hallmarks of a Brighton College education and have placed the school, once again, amongst the highest ranking establishments in Dubai for academic scores.
2021 GCSE Results
Brighton College Dubai Celebrates its First Year of GCSE Graduates Since Opening with Outstanding Results
Our first-ever cohort of GCSE graduates are celebrating achieving outstanding results today, with 55% of examinations achieving an impressive Grade 9-8 (A*). Head Pupil, Madeleine Cranitch, has been awarded an impressive 9 Grade 9s/A*.
Paving their way to a very bright future, our pupils have collectively achieved 29% Grade 9, 55% Grade 9 - 8 (A*), 69% Grade 9 - 7 (A*-A), 81% Grade 9-6 (A* - B), 99% Grade 9 - 4 (A*-C).
Simon Crane, Head Master of Brighton College Dubai, said "I am incredibly proud of the brilliant achievements of our first GCSE cohort who have exceeded their targets. Given the worldwide uncertainty around examinations, this year has been a particularly demanding one and we do not underestimate the amount of effort that has been required from our pupils who have had to adapt to a fluid learning style. There is no doubt in my mind that Brighton College Dubai pupils have benefited enormously from a relatively uninterrupted education from dedicated teachers who always go above and beyond. My warmest congratulations go to our excellent pupils and staff on these fantastic achievements!"
Click here to learn more about our top performers of GCSE 2021
2021 A Level Results
The Brighton College network of Schools continues to produce some of the best A level results here in the UAE, with pupils going on to study in some of the most prestigious universities worldwide.
Brighton College Dubai welcomed its first Sixth Form cohort in September 2021. The Sixth Form experience at Brighton College Dubai will provide a stimulating, innovative and friendly environment where pupils have every opportunity to flourish. We pride ourselves on our excellent teaching; high levels of academic challenge; outstanding pastoral care and sound careers advice and guidance.
We aspire to follow in the footsteps of our sister schools, Brighton College Abu Dhabi and Al Ain, in delivering an outstanding set of A-level results every year.
The Sixth formers at Brighton College Al Ain achieved a 100% pass rate.
Key Statistics 2021
75% of grades were A*-A
90% of grades were A*-B
97% of grades were A*-C
Brighton College Abu Dhabi pupils have once again achieved outstanding A-level results and have even beaten last year's record haul of top grades, securing 85% A*-B grades in this year's examinations. Even more important than the raw scores, the value-added score that pupils have achieved this year is (+1.25), which yet again reflects the excellence of the school's excellent teaching and learning.
This year's outstanding results mean that, on average, a Brighton College Abu Dhabi pupil gains a grade and a quarter above statistical expectations and the results enable pupils to progress to the best universities around the world, with two pupils this year going up to Cambridge University and a third who has deferred his place until 2022.
Brighton College Abu Dhabi is extremely proud of the hard work and diligence of its UAE national pupils who have achieved a fantastic 83% A*- B grades.
Key Statistics 2021
A*: 28.8%
A* - A: 63.1%
A* - B: 85.1%
A* - C: 95.8%